Bring your Business Online with our best and affordable Website Development Services in Delhi, India. Being a leading web development company in Delhi, we strive our best to give your business the best and effective online presence.
We are one of the Best Website Development Company in Delhi, India. We offer our clients the complete website development services in Delhi and all over India and outside as well. As a creative web development agency in India, we use the latest technologies and follow the current trends in web development. we design and develop simple, clean, and attractive websites that have a clean user interface and easy navigation. The clean user interface of a website looks beautiful and also the simplicity of the design keeps visitors of your website on the web page and easy navigation helps users to easily navigate to different pages of a website. A best-designed business website converts website visitors to qualified leads and generates more sales and thus manages to achieve the real goal of the website.
At Digital Ad Quest, We believe website designing and web development is an art and thus we put our years of experience and creativity in our web development work. As a creative website development company in Delhi India, we create beautiful and attractive websites and bring every businesses online in a most effective and affordable way. Being a complete one-stop web development company in India, we create Fully Responsive WordPress Website, Beautiful CMS Website, Advanced Feature-Rich E-Commerce Website. We also provide industry-specific web development services like Tour & Travel Website.
Website Development Services We Offer
Here are some of the web development services in India we provide to our clients but we are not limited to these services only, you can let us know if you need other web development services, we're ready to help you with your requirements.
Web Development Services in Delhi India
It's not without reason that we have become one of the best web development company in Delhi, India. It's our expertise and experience in our website development services that we provide to the clients that make us wear the #1 web developer crown in the city. As a full-fledged web development service provider, we provide a wide range of web development and related services to our clients. Here're some of the popular web development and related services, where we actually excel.
Static Website: Static websites are the simplest websites built using HTML, CSS, JS, they dont require database. These website are suitable if you just need few pages in your website and you do not require to update the content of the website frequently.
Dynamic Website: Dynamic websites are built using a framework, It gives flexibility to add new pages and update the existing pages easily. Being user-friendly, these days dynamic websites are more popular and in demand.
Responsive Website: Responsive websites are those websites which works well with the devices of all screen sizes. With the rapid growth of mobile phone users, it's really important to create a website which works well on small screen devices.
E-Commerce Website: E-Commerce websites are those website where products and/or services are sold and accepted the payment. We have got the expert, experienced and dedicated team for ecommerce website development in Delhi, India.
Tour & Travel Website: Being a top-notch web development company in India, we also create tour and travel website also know as travel portal. This is the industry specific dynamic e-commerce websites where clients can easily manage their website.
Real Estate Website: As a leading company providing website development services in Delhi, we have created many real estate websites. It's again an industry specific website, where clients can easily update/manage their website themself.
CMS Website: We are a top CMS website development company in Delhi, India. Websites created using Content Management Softwares (CMS) are easily to manage and update, even a non-technical personal can manage their website.
WordPress Website: WordPress is indeed the most popular CMS platform today and the best part is, it's an open sourse software. WordPress powers more than 25% websites of the world and thus it's a best platform for creating websites.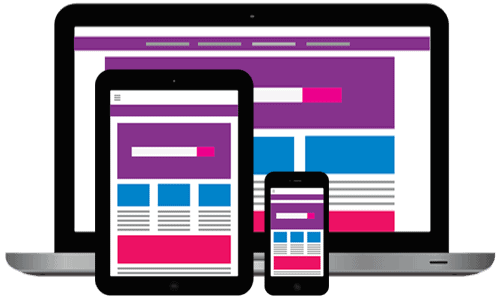 Being one of the leading Web Development Company in Delhi, India, We offer you the best and affordable Website Development Services in the country. It's never been so easy to give your business an online presence, now you can get your business online in a most affordable and effective way, our website development pricing starts from as low as RS. 4999 or USD 100. We have other web development packages as well for medium and large business enterprises, we can also customize our web development services and pricing as per your specific requirements. 🙂
Why Do You Need Website For Your Business?
Having a website for your business is the key to business success in today's time. Even if you are not selling any product or services online, you still need to have a website so that your customers can find your business easily and can know more about your business. You can't afford, not to have a business website when all of your competitors are having one for their business and they are generating leads using the website. A website is the online identity of the company, you should have a website which not only represents your company properly but also generates leads and business for your company. Choosing one of the best website development company in Delhi, India can be a really tiring and difficult process; if you choose the wrong agency you only waste your time and money.

Our websites will help you to start winning on the web! Remember, your website is often the first and only way to make an impression on your clients and potential new customers. Thus having a good website will definitely give you a business edge. Our web development process starts with taking the requirement from the client and turn their ideas into a website. We can also create a website similar to another one as per our client's requirement. we also provide website re-designing and development services and if require we work from the scratch on your existing website to make it live and effective. Being a leading website and web development company in Delhi, India, we provide Business Website Development, Responsive Website Development, Website Re-Design & Development, Website Maintenance & Support services to our clients at affordable and realistic rates.
The USP's Of Our Website Development Services
Being one of the top website development company in Delhi, India, Our team brings years of experience in website design and development services, to create beautiful and attractive business websites. Let's have a look on few of our USPs.
Simple Yet
Attractive
We believe in putting everything simple and thus our websites has Simple UI and Easy Navigation but it still looks very attractive and beautiful in all the popular devices and browsers.
Latest
Technology
As a creative website development company in Delhi India, We always use the best and latest technology available to build your website to make sure it's effective for a long time.
Validation
Standards
As a leading website development company in Delhi, India, We follow all website development standards to make sure your website is error free and works perfectly everywhere.
Completely
Tested
We do a proper testing before delivering websites that we create, to make sure there is no issue once the website is launched and it does not delay further in rectifying the errors.
Responsive

Design

Responsive website is the demand of the time and thus we create websites that gives fluid and responsive experience to your website visitors across all the popular devices today.
Premium
Support
We provide premium support to all our clients on their website related queries. 100% response in just 2 working days, No compromise at all when it comes to customer support.
FAQS About Our Website Development Services
You are at the right place if you are looking for a website for your business. If you have queries, you can contact us, our team will be happy to help you. Here are some of the frequently asked questions about our web development services.
I am not sure if I need a website for my business?
Well, if you are asking this question, then you probably know the answer. A business should definitely have a website even if you are not selling anything online. Your website will help you and your customers in many ways.
How much time will you take to create my business website?
It actually depends on your website, how many pages are there in your website, and what kind of functionality needed for your website. It usually takes 30 days for creating a business website having 20-25 web pages.
How much does it cost for my website development?
It depends on the type of your website, our web development packages start from Rs. 4999 (or USD 100) for a simple 5 page static website. We have other web development packages as well for dynamic and corporate websites.
Will you also host my website at your end?
Yes, we do provide web hosting services along with the web development but in case if you already own web hosting, we can also host your website on your hosting, do let us know if you already have a web hosting and domain.
Can you redesign and develop my existing website?
Yes, we can redesign and redevelop your existing website to give your website a new look and new life. Also, if needed, we can work on your existing website from the scratch using the latest technologies to recreate your website.
Are there any ongoing costs after website development?
As such, there is no ongoing cost after website development but in case if you want your website to be updated frequently, you can hire us for the ongoing maintenance and content updating on your website after development.
What are the renewal costs after the first year of development?
Usually, the renewal cost includes the cost of the domain name, web hosting, and SSL certificate. Further, if there are any changes and maintenance of your website, the cost for the same will be added to the renewal cost.
Do you provide support after the launch of my website?
Yes, we do provide support after the launce of the website. We provide premium 12 months customer support for the website, if the website is hosted with us or else 30 days of support (if the website is hosted at your end).