Planning Your Business Website
10 Effective Steps for Website Planning
We all know that in today's competitive world, every company or business needs a website. Most of the existing companies already have website for their business or brand but the problem is that their website don't work for their business. The actual problem here is that most of the people actually failed to plan for their website and the result is that their website is now not working for their business. As its said that "if you fail to plan, you actually plan to fail".
Planning your website ahead of time will give it clear direction as well as prevent missing deadlines. We are sure if you are reading this article you may be planning a website for your company or brand or you may be planning for the re-designing of your existing website for better usability and result. This article is useful for both web developers as well as owners or employees of an organization, making or planning a website for their company or brand.
OK Let's help you in planning for your Website Designing and Development.
Before actually getting into your website designing and development, First you need to understand the importance and requirements of your website. Find out the answer of few questions that will help you in designing your website.
Que 1: Purpose of your Website ?
Find out the purpose or Objective of your website, if it is for company information or if you are also going to sell your products and services from your website. Knowing the actual objective of your website can help you design your website in a better way and also help you in setting the goal of the website.
Que 2: Target Audience of your Website ?
Before actually getting into the website designing and development, know the audience of your website. Knowing the demographic characteristic of your website audience can help you in planning the design and layout of your website.
Que 2: Budget of your Website ?
Whether you're big established company or a start-up, you should always set a budget for your website expenses. Budget of your website includes everything like the funds for web developer, graphic designer, content writer and / or funds of Domains and Hosting.
Website Designing Plan:Once you have got the basic idea of why are you making a website, who is the target audience and what is the budget of your website. Now you are ready to start with your website designing, Consider the following points in planning your website designing.
1. Type of your Website
First of all decide the type of your website. See if you need a static info website for your company or if it is a E-Commerce Website where you will be selling products or services or a Blog Site where you will be sharing your thoughts or write and share articles for a company. Depending on your website type, you will choose a platform for your website. Also set the goal for your website on the initial stage only, this will help you track the performance of your website and take the corrective steps latter.
2. Domain Name and Hosting
If you don't already have a domain name for your business or brand, Choose a domain name for your website. A domain name is the URL or website name. Domain name should be related with your business or brand. A short and simple domain name is always good for the website. Also a domain name should be easy to remember and write. Dot Com domains are still the most popular one, but you can choose the one related with your website. Also try not to include any special character in your domain name which is difficult to remember.
Once you have finalized with your domain name, Search the availability your domain name at domain sellers like godaddy.com or bigrock.in ; and purchase the one if available. You also need a hosting server for your website. You can buy hosting space from the domain seller it self. Also compare the pricing and features of different hosting providers . Choose the one which have better up time, space and reputation. Also read the reviews of the hosting service provider before locking into one.
OK, So now you have the domain name and hosting server for your website. Let's get into Website Designing now.
3. Design a Page Layout
First of all design a layout for your website. A layout basically includes Header, Footer, Main Body, Sidebar of your website. Its good to keep your website layout uniform for all pages of your website. A website should have simple layout. Also think about your target audience when designing layout for your website.
4. Navigation of your Website
Navigation of a website is the most important part for your website. It helps your visitors navigate to the different pages of your website. Try to include the most important pages of your website as navigation menu in the header itself. Navigation should be simple and easy. Try to put the important details of your website near the navigation menu in the header.
5. Color, Graphics & Multimedia
Once you have finalized with the header part and navigation menu of your website. Now choose the color schemes for your website. Colors used in the website should be pleasant and should not irritate the eyes. Think about your visitors experience when choosing a color combination for your website. Also use the graphics and multimedia in your website to make it beautiful and to support the content of your website.
6. Content of your Website
While writing the content for your website, think about the readers of your website. We have seen that many people focus more on SEO rather than writing a good content for the readers. Focus more on your readers rather than Search Engines. Write good and engaging content, Content should be original. Also try writing the most important points in the first few paragraphs.
This is all about website Designing. Now let's talk about website development.
Website development is more like coding for your website, this step comes once you are ready with your website designing. Although website development is the work of website developer and does not require any special planning at your end but below are few points you need to consider before going with your website development.
7. Platform / Technology
There are various platforms available for website development, You can choose the one which suits your requirement. Different types of platform are suited for different types of websites. For Example – WordPress is a platform mostly suited for blogs or for company websites. As in the first step, you have got the idea of the type of your website, you can easily choose the platform or technology for your website. You can also take the help of your website developer in choosing the platform or technology for your website.
8. Functionality of your Website
Functionality of your website is basically integrating different pages with one another, payment cart integration, Sign in / Registration form if any, Contact form integration in your website. Functionality of your website is integrated at the website development level. Make sure you have all the functionality in your website which is required.
9. Test your Website
This is very important part in Website Designing and Website Development. Test your website in different browsers and devices and check if your website is working fine in all available browsers and devices. Now a days more than 50% people access websites on their mobile devices, test your website on mobile devices (Try designing Responsive Website that fits well on the devices of all screen sizes ). Test your website for any bugs and also if all the features of your website working fine. Make sure all the links in your website works and the images in your website is properly placed.
10. Maintain your Website
Measure your website performance, There are various tools for measuring the performance of your website. You can use Google Analytics for measuring your website traffics and performance. Also take the corrective steps if your website is not performing as expected and if you think your website needs improvement in order to achieve its goal.
Planning a website ahead of time is just as important as planning anything else in business, Taking the time to plan your website is a great investment. Hope the above given 10 points will help you planning your website in a more effective way. Do provide us your feedback and any other ideas for website planning in the comment section below.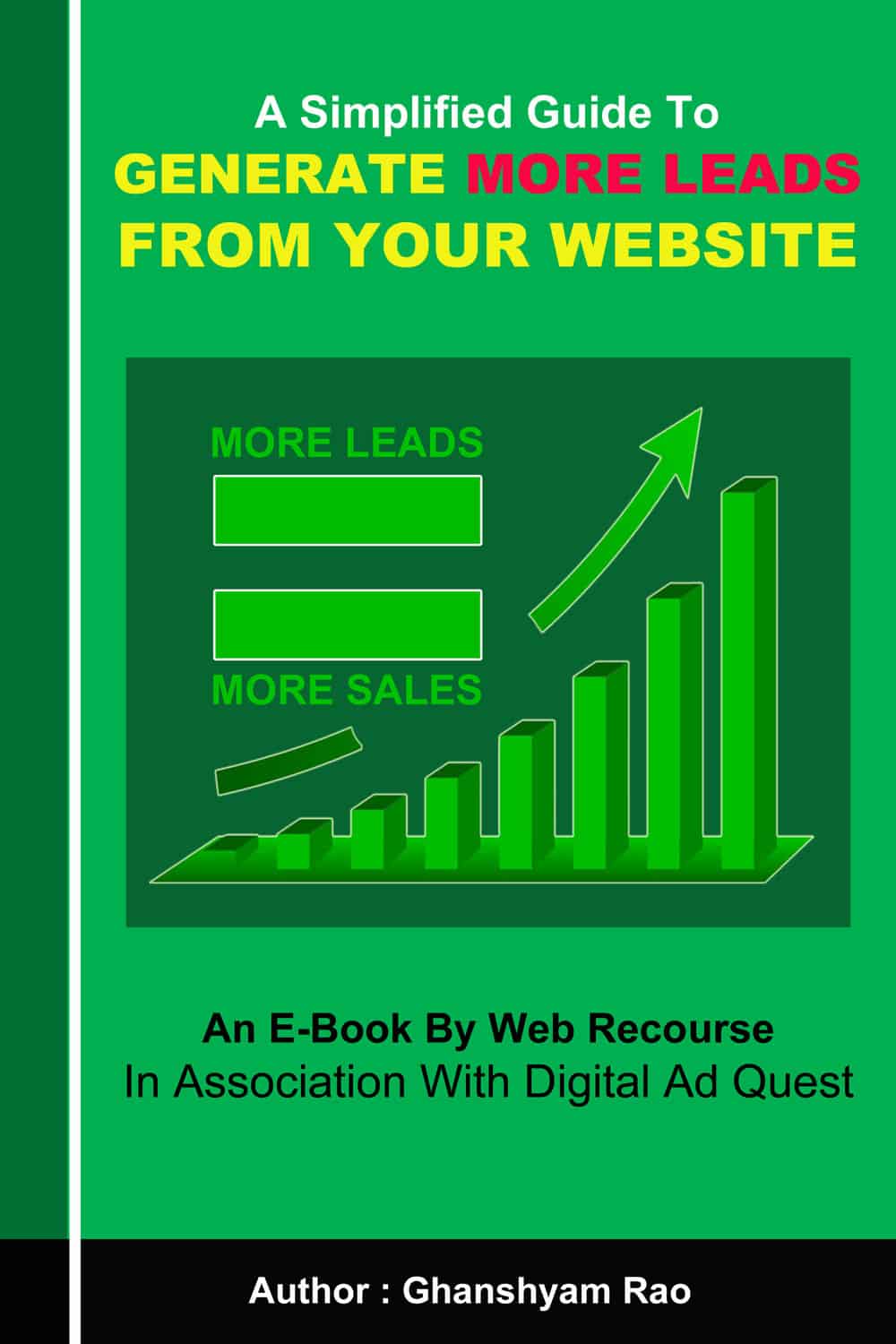 A simplified guide to Generate More Leads From Your Business Website (eBook Worth Rs. 650 or USD 10) Get your copy for FREE now.